Winners Announced! 2019 Transformation Challenge
The 2019 Transformation Challenge was a HUGE success! We had over 1,100 initial signups, some great partners like Title Boxing West Wichita, and an amazing community of people who not only participated in the Challenge, but came together with one another to help motivate and inspire fellow competitors.
The Challenge ran from May 1 2019, to June 30 2019, where contestants competed to attain the best 60 day transformation. Competitors were judged on a combination of physical transformation and body composition progress results. Competitors used our in-store InBody® Body Composition Scanner to help track their progress and results throughout the Challenge. They also took weekly progress pictures starting at Week 1 through Week 9.
In total, competitors who finished the Challenge lost a total combined body weight of over 4,800 lbs, over 5,800 lbs of body fat mass, and gained over 1,000 lbs of lean muscle! We saw incredible transformations and incredible results. Our goal was to help as many people as possible make positive lifestyle changes.. and we exceeded our expectations in doing so.
Big thanks to our Challenge competitors and our community for the support in making the 2019 Transformation Challenge the most successful Challenge to date!
---
2019 Supplement World Transformation Challenge
We have our Winners!!
---
1st Place
$2,000 Cash Grand Prize
Keith Farris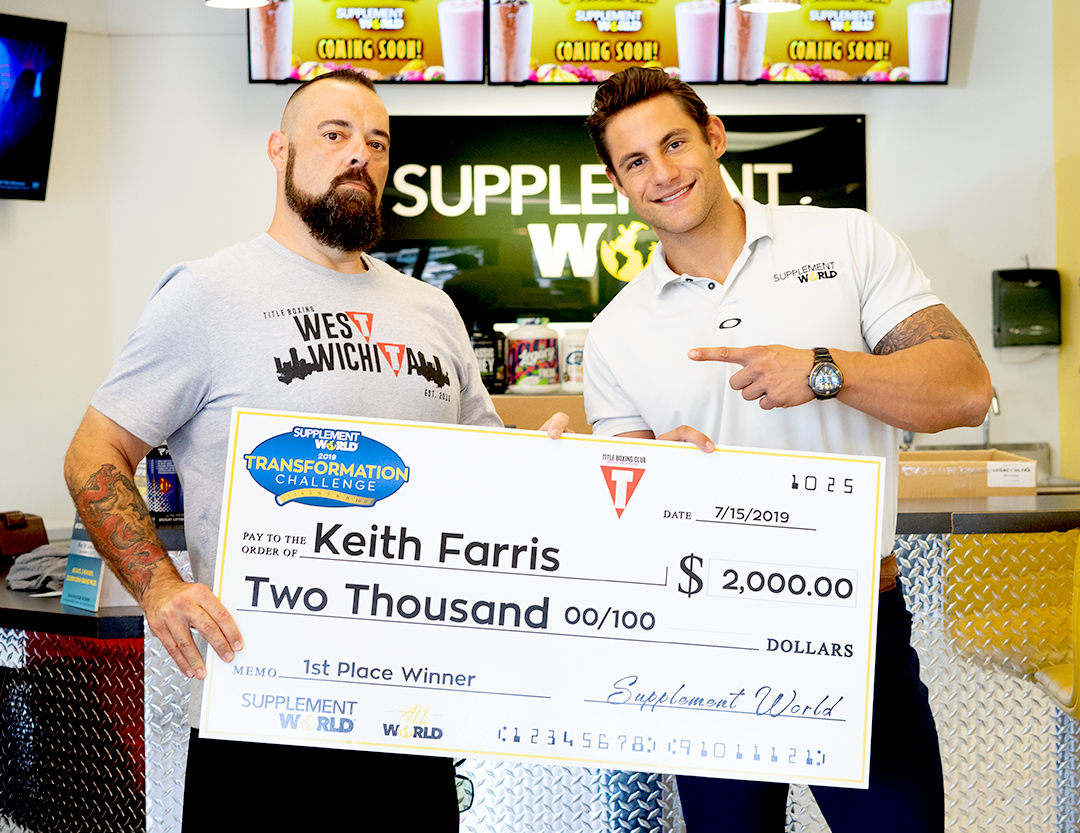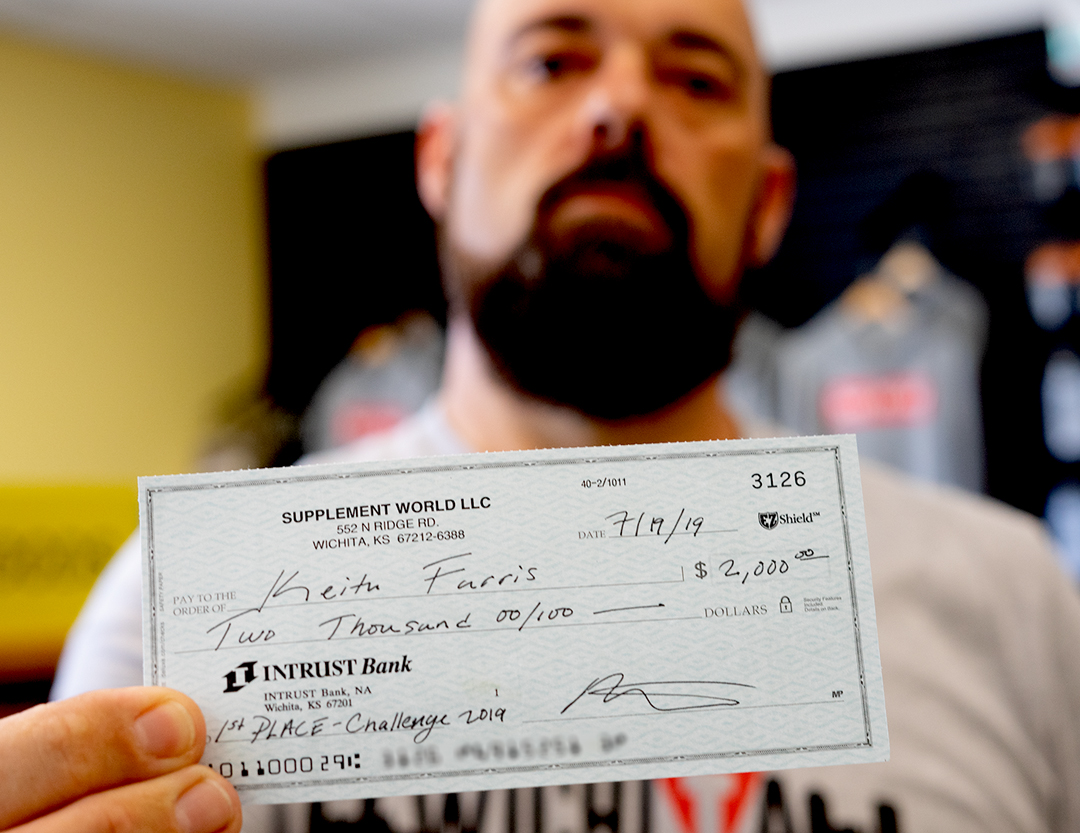 ---
2nd Place
Free supplements for 1 year
Janesha Hill

---
3rd Place
Free supplements for 1 year
Kareem Grim

---
4th Place
Free supplements for 6 months
LeeAnn Fitzgerald

---
5th Place
Free supplements for 3 months
Peter "Pip" Hutton

---
Completion Prizes
$25 Supplement World gift card

The listed contestants below all successfully completed the Challenge (submitted both Week 1 and Week 9 progress photo's and weigh-ins, missing no more than two in between).
All contestants below received a $25 Supplement World gift card for seeing the Challenge all the way through. Big shoutout to everybody below!
Abraham Anwar- East Wichita Location
Alex Nguyen- South Wichita Location
Alicia Nagle- South Wichita Location
Alyssa Denny- East Wichita Location
Angel Herrada- West Wichita Location
Angela Baker- South OKC Location
Anna Cody- East Wichita Location
April Mcwithey- West Wichita Location
Araceli Madrigal- East Wichita Location
Arden Mouangdy- South Wichita Location
Aron Newland- West Wichita Location
Ashley Winter- East Wichita Location
Ashlynn Hardison- South OKC Location
Audra Bullard- West Wichita Location
Aunna Escalante- East Wichita Location
Austin Brooks- West Wichita Location
Baylee Roberts- N May (4 Star) OKC Location
Braxton Schreck- West Wichita Location
Brent Brown- West Wichita Location
Brett Chapman- West Wichita Location
Britton Mills- South Wichita Location
Bryan Whorton- South OKC Location
Caleb Peterson- East Wichita Location
Calli Wood- South OKC Location
Carina Perez- West Wichita Location
Carl Rowles- East Wichita Location
Carlos Prado- South Wichita Location
Cedric Palmer- East Wichita Location
Chandler Benway- South Wichita Location
Chase Chastain- East Wichita Location
Chaz Richards- South OKC Location
Cheyenne Dolatta- South Wichita Location
Chris Atchley- N May (4 Star) OKC Location
Chris Haws- East Wichita Location
Chris Mcmullen- South OKC Location
Christina Smith- South Wichita Location
Cody Bowyer- South Wichita Location
Cody Osteen- N May (4 Star) OKC Location
Colton Lane- West Wichita Location
Courtney Cogan- East Wichita Location
Courtney Gulick- West Wichita Location
Cynthia Andazola- West Wichita Location
Daniel Aguilera- West Wichita Location
Daniel Kaup- West Wichita Location
Danielle Brazelton- South Wichita Location
Darcy Wasson- West Wichita Location
Darin Evans- West Wichita Location
David Akao- East Wichita Location
David Didomenico- West Wichita Location
David Jessup- West Wichita Location
David Molina- N May (4 Star) OKC Location
Denice Copus- South OKC Location
Derek Askren- East Wichita Location
Derica Roberts- South Wichita Location
Dominique Adkins- South Wichita Location
Doug Lynam- East Wichita Location
Douglas Mcpherson- South Wichita Location
Duane Fiola- East Wichita Location
Dustin Lynam- East Wichita Location
Eddie Sarpong Jr- N May (4 Star) OKC Location
Elisha Vague- West Wichita Location
Elliot Arnold- South OKC Location
Emmanuel Brown- East Wichita Location
Ericka Torres- West Wichita Location
Erin Phillips- East Wichita Location
Ernesto Naranjo- West Wichita Location
Evan Borst- West Wichita Location
Everardo Hernandez- South OKC Location
Francisco Gomez- South OKC Location
Gary Minter- South OKC Location
Gavyn Veith- East Wichita Location
Genny Brown- East Wichita Location
Gherjuan Robinson- South OKC Location
Gregory Willis- West Wichita Location
Holly Haws- East Wichita Location
Holly Schmitz- N May (4 Star) OKC Location
Ileana Reyes- South Wichita Location
Jack Prosser- South OKC Location
Jackie Utz- South Wichita Location
Jamie Bailey- East Wichita Location
Jamie Tran- West Wichita Location
Jaron Stern- South OKC Location
Jason Beckner- West Wichita Location
Jason Hanna- West Wichita Location
Jason Lewis- West Wichita Location
Jason Lu- East Wichita Location
Jeremey Sims- West Wichita Location
Jeremy Satterfield- West Wichita Location
Jerry Cornejo- East Wichita Location
Jessica Costin- South OKC Location
Jill Ledesma- West Wichita Location
Jim Roney- South Wichita Location
Joe Brown- East Wichita Location
John Ford- West Wichita Location
Johnny Nguyen- East Wichita Location
Jose Cabrera- South Wichita Location
Jose Miranda- East Wichita Location
Joseph Taylor- South OKC Location
Juan Perez- South OKC Location
Julian Awari- South Wichita Location
Julie Betzen- West Wichita Location
Justin Russell- West Wichita Location
Justyce-Lee Hankins- South OKC Location
Karla Dolatta- South Wichita Location
Karlee Glasscock- West Wichita Location
Kashmere Shuck- South Wichita Location
Katie Campbell- West Wichita Location
Kelly Dufford- South Wichita Location
Kelsey Hammett- West Wichita Location
Kennedy Goetzinger- N May (4 Star) OKC Location
Kenneth Lawrence- West Wichita Location
Kenny Stark- South Wichita Location
Khai Nguyen- South Wichita Location
Kristi Love- West Wichita Location
Kristina Betzen- West Wichita Location
Kyle Cain- South Wichita Location
Kyle Manera- East Wichita Location
Kyle Waas- South OKC Location
La Trell Spotwood- South OKC Location
Lacee Reymer- East Wichita Location
Layce Mcmullen- South OKC Location
Leigh Sinn- West Wichita Location
Linda Hurt- East Wichita Location
Lindsey Gordon- East Wichita Location
Lisa Brown- East Wichita Location
Lisa Gile- East Wichita Location
Lorenzo Serna- West Wichita Location
Luke Snyder- East Wichita Location
Lydia Barnett- South OKC Location
Ma Kaae- West Wichita Location
Madison Buckaloo- West Wichita Location
Mai Fairchild- West Wichita Location
Maria Montelongo- South OKC Location
Marisa Corral- South OKC Location
Marisela Diaz- South Wichita Location
Marissa Sutter- South Wichita Location
Matthew Ballway- East Wichita Location
Matthew Mortimer- South Wichita Location
Megan Moore- West Wichita Location
Melinda Salazar- South Wichita Location
Melissa Norton- West Wichita Location
Michael Bridges- South OKC Location
Michael Marrs- South Wichita Location
Mike Loveland- West Wichita Location
Neal Krajicek- West Wichita Location
Nelson Escalante- East Wichita Location
Nicci Stark- South Wichita Location
Nick Buckaloo- West Wichita Location
Nicole Rooney- West Wichita Location
Nikke Russell- West Wichita Location
Nu Nu Nguyen- East Wichita Location
Paris Garibaldi- East Wichita Location
Peter Hutton- South OKC Location
Praseth Sinn- West Wichita Location
Rachel Davis- West Wichita Location
Raena Perez- South Wichita Location
Randy Stanley- West Wichita Location
Roman Belden- West Wichita Location
Ruth Cruces- South OKC Location
Ryan Rooney- West Wichita Location
Ryan Tholen- East Wichita Location
Samantha Fitch- East Wichita Location
Sara Meek- East Wichita Location
Sarah Wilson- East Wichita Location
Scott Barber- West Wichita Location
Sean Bailey- East Wichita Location
Shawn Cron- East Wichita Location
Skeeter Oketch- South Wichita Location
Stephanie Farmer- East Wichita Location
Steve Copus- South OKC Location
Steve Rogers- West Wichita Location
Summer Mcpherson- South Wichita Location
Susana Navarette- South Wichita Location
Tammy Clayton- West Wichita Location
Tasuna Kelly- South OKC Location
Teresa Kuhn- West Wichita Location
Thomas Kautz- West Wichita Location
Tiffaney Story- N May (4 Star) OKC Location
Tiffany Carter- West Wichita Location
Tiffany Smith- South Wichita Location
Tim Mertz- South Wichita Location
Tina Taylor- South Wichita Location
Trista Galloway- West Wichita Location
Tyler Granstrom- South OKC Location
Tyler Titsworth- N May (4 Star) OKC Location
Vanessa Jimeson- South OKC Location
Vaughn Huslig- East Wichita Location
Vernon Dean- South Wichita Location
Victor Manzano- South OKC Location
Vincent Gallardo- West Wichita Location
Wade Fairchild- West Wichita Location
Wes Dolatta- South Wichita Location
Whitney Guthrie- South OKC Location
Zarious Hughes- South OKC Location